TOUR PRICE: (not per person) US$ 1.575
Price includes an exclusive tour for up to 6 persons.
Please note: It is not possible for different private groups to share this tour.
(For more than 6 people, it is additional USD 60 per person)
THE PRICE INCLUDES: A Jewish guide for and a driver in a limousine/minivan for 5 hours
STARTING POINT: The Danish Jewish Museum (Closed on Mondays)
STARTING TIME: At your request
TOUR ENDS: In the city center of Copenhagen
ENTRANCE FEES: Included
DRAGÖR & THE RESCUE OF THE DANISH JEWS  
In the footsteps of the rescue of the Danish Jews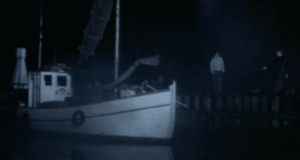 On our Rescue Route3 we have a car available for 5 hours. This tour is a perfect choice if you would like to combine a classic shore excursion with Jewish highlights like the Copenhagen Synagogue, the Jewish Museum and a visit to Dragor fishing village. 
You will see all the highlights Jewish Copenhagen including a visit inside the Copenhagen Synagogue and the Jewish Museum.
In Dragor fishing village your guide will also share personal stories about the miraculous rescue of 7,000 Danish Jews in October 1943 and about Jewish life today.
World War 2
Brave fishermen helped more than 95 % of the Jewish population in Denmark to safety in Sweden in a heroic act, the world had never seen before. Many Jewish Danes escaped from the village Dragör on small fishing boats. One of these boats was the fishing boat Elisabeth K571k, which ferried many Danish Jews to safety in Sweden on the cold and dark nights of October 1943.
Today Dragör Town is a charming village with old half-timbered houses, cozy cafes and restaurants. A mere 8 miles from the center of Copenhagen, the visit to Dragör will not only evokes the past, but also give you an interesting and unique experience of life in a small Danish coastal village.